The fifth and last race of the MVRC 2018 season has commenced. After CAEdevice won 4 out of five races in 2017, the last three in a row and winning the first race of the 2018 season, it looked to become a boring year. However Variante and JJR figured out how to win races again, opening up the championship again. This last race decides the champion. To not take to much away, there are two ties in the championship: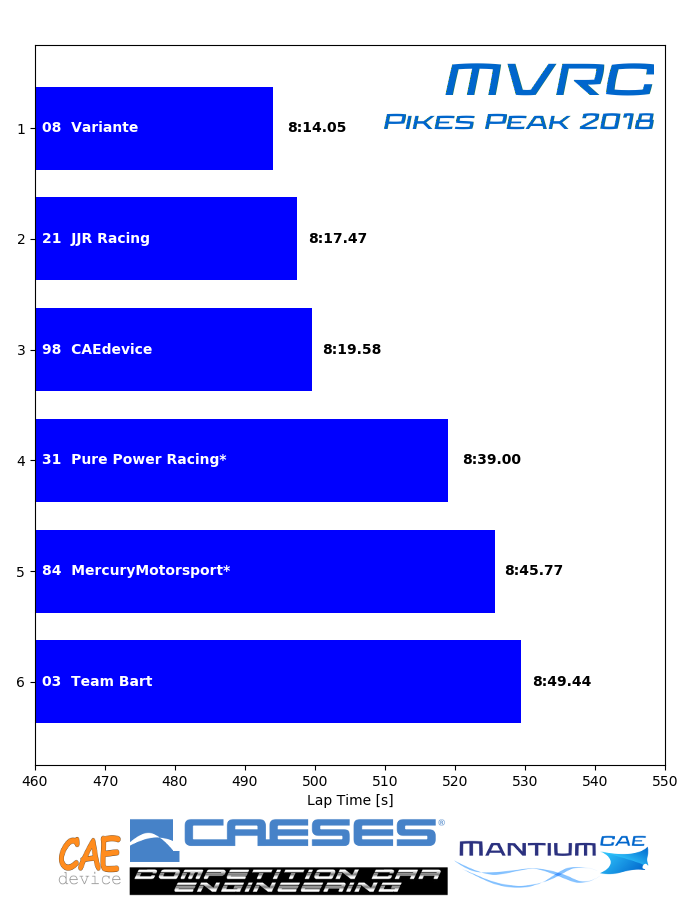 Here are some CFD images from the cars:
Big congratulations to Variante as this victory also secured the championship for him.
Below are the numbers from the race and the championship points:
| | | | | | | | | | | | | |
| --- | --- | --- | --- | --- | --- | --- | --- | --- | --- | --- | --- | --- |
| Team | Position | Championship Points | Cd*A | Cl*A | Cl(frt) | Cl(rr) | Cl/Cd | CoP Corrected [m] | Engine Power [%] | Lap Time | Penalties | Overall Lap time [s] |
| Variante | 1 | 25 | 2.023 | -10.265 | -3.920 | -6.345 | -5.074 | 1.80 | 100 | 494.05 | 0 | 494.05 |
| JJR Racing | 2 | 18 | 2.192 | -9.943 | -3.979 | -5.965 | -4.536 | 1.80 | 100 | 497.47 | 0 | 497.47 |
| CAEdevice | 3 | 15 | 2.484 | -10.021 | -4.001 | -6.020 | -4.034 | 1.80 | 100 | 499.58 | 0 | 499.58 |
| Pure Power Racing | 4 | 12 | 2.208 | -7.782 | -3.397 | -4.385 | -3.524 | 1.74 | 100 | 513.91 | 1 | 519.00 |
| MercuryMotorsport | 5 | 10 | 1.501 | -7.163 | -3.108 | -4.055 | -4.772 | 1.75 | 95 | 520.68 | 1 | 525.77 |
| Team Bart | 6 | 8 | 0.774 | -3.631 | -1.711 | -1.920 | -4.691 | 1.64 | 99 | 529.44 | 0 | 529.44 |
MVRC Championship points 2018 after Race 5
1

Variante

108
2

CAEdevice

91
2

JJR Racing

91
4

Pure Power Racing

53
5

MercuryMotorsport

46
6

Team Bart

42
7

TalnoRacing

20
7

Tulip Racing

20
9

Vortex Racing

14
10
SHM Racing
2